Presenting Dr. Solano, Class of 2009-North's Homecoming Parade Grand Marshal!
Posted September 19, 2023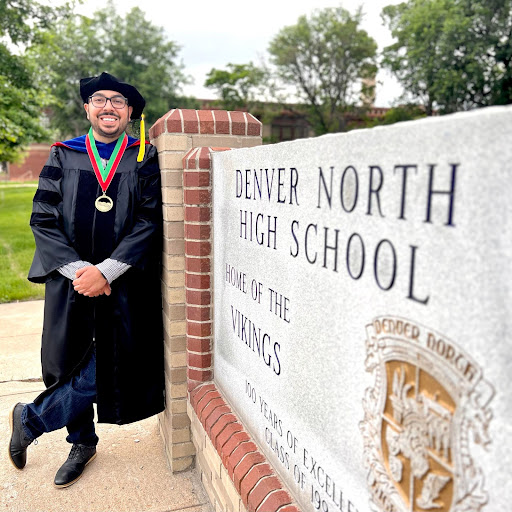 Dr. Isaac S. Solano, Class of 2009, is a proud alumnus of Denver North High School. In fact, he currently serves as our Alumni Association President. Dr. Solano is a second-generation North High School graduate. His mother, Geraldine Chacon, graduated from North in 1984.
Years ago, during Isaac's time as a North student, he participated in numerous activities such as: the Black Masque Theatre Company, National Honor Society, Rocky Mountain Junior Achievement, Colorado Uplift, Editor-in-Chief for the North Star student newspaper, founder of the North High School Ethics Club and served as the North Varsity Swim Team Captain. During his senior year at North, he was elected Homecoming King by the student body.
Professionally, Dr. Solano is an educational administrator and researcher based out of the Denver, Colorado area. He earned a Ph.D. at the University of Denver in the Educational Leadership and Policy Studies Program in 2023. Before matriculating to the University of Denver, he earned a Master of Arts in Education Policy from Teachers College, Columbia University in New York City in 2015. He earned a Bachelor of Arts in Political Science and a minor in Chicano and Latino Studies at the University of Wisconsin at Madison in 2013.
Isaac's expertise include but are not limited to: urban P-20 education, higher education, culturally responsive and affirming education practices, empirical research, municipal government and non-profit work. He is a qualitative research and school/community engagement expert who centers his research around student voice. Throughout his career, Dr. Solano has spent thousands of hours researching in numerous school districts all over Metro Denver.
Currently, he is the Manager of Leader Development for Denver Public Schools. In this role, he leads the team and the work that supports DPS educators as they transition into leadership roles within the district, i.e.–Deans, Assistant Principals, Principals and other district leadership roles. In the past, he served as the Associate Dean of the College of Creative Arts and Design at Emily Griffith Technical College (in Denver Public Schools). He also served as the Lead Central Office Administrator in charge of running and implementing the Denver Public School's Opportunity Gap Cohort-Career College Success (OGC-CCS) Program.
Prior to joining DPS, he worked for United States Senator Michael F. Bennet, created the College Boot Camp Program for under-resourced and underserved high-achieving youth, interned for the Denver Public Schools Foundation, the National Conference of State Legislatures and Sheridan Public Schools. In addition to proudly serving as the President of our North Side High School Alumni Association, Dr. Solano also serves on the board of directors for Minds Matter Colorado.
Isaac still lives in Denver's Globeville neighborhood. In his free time, he enjoys fishing with his partner Samantha in various streams, creeks, rivers and lakes throughout the Front Range and in Southern Colorado. When he isn't fishing, he can be found playing billiards at one of his favorite local dive bars with friends and family. Dr. Solano is honored to serve as the 2023 Grand Marshal.